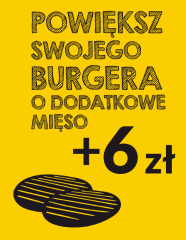 Powiększ swojego burgera o dodatkowe mięso za jedyne 6zł
Double the meat for only 6zł
Cheese Burger
150 g of seasoned beef, cheddar cheese, fresh lettuce, tomato, onion, pickled cucumber, tomato relish, mayonnaise

Cheese Burger
150 g of seasoned beef, cheddar cheese, fresh lettuce, tomato, onion, pickled cucumber, tomatoe relish, mayonaise, FRENCH FRIES and BEVERAGE of your choice


TASTE Burger
150 g of seasoned beef, fresh lettuce, tomato, onion, pickled cucumber, honey-mustard sauce, mayonnaise

Bacon Burger
150 g of seasoned beef, crispy bacon, fresh lettuce, tomato, onion, pickled cucumber, honey-mustard sauce, mayonnaise

BURGER MENU
Burger + French fries + Beverage*
*Coca-Cola 0.33L, Coca-Cola Zero 0.33L, Sprite 0.33L, Fanta 0.33L, Still Water 0.5L, Sparkling Water 0,5L, Cappy Fruit Juice 0.33L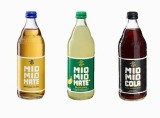 MIO MATE 0,5 L
MIO MIO mate - energetyczna lemoniada gazowana na baze Yerba Mate o smaku Banana, Cola, Cola Zero, Ginger lub Yerba
8. John Lemon MATCHBATA
Lemoniada na bazie herbaty MATCHA
10. JOHN LEMON ROOIBATA
Lemoniada na bazie afrykańskiej herbaty rooibos, bez dodatku cukru
11. John Lemon Czarna Porzeczka
Soki Cappy Pomarańcz, Jabłko, Truskawka lub Multivitamina
Capple Multivitamin Juice
FUZE TEA
Napoje FUZE TEA w różnych smakach
Black Ice Tea Lemongrass
Czarna herbata z cytryna i trawa cytrynową
Black Ice Tea Peach Hibiscus
Czarna herbata z brzoskwinią i hubiskusem
Chabeso 0,33 L
Chabeso powraca!

Juź w szalonych latach dwudziestych było popularne w całej Europie i Egipcie - profesjonalni tenisiści grali tylko, jeźeli Chabeso było na korcie - w Wimbledon równieź.
Od 1914 roku to pierwszy i jedyny, naturalny i oryginalny napój retro z tajemniczym, wartościowym LactoSerum. Ta unikalna i charakterystyczna kompozycja, delikatny smak oraz przyjemna zawartość dwutlenku węgla czynią Chabeso idealnym orźezwiającym drinkiem.
Wartościowe LactoSerum, bez konserwantów i barwników, cenne mineraly (Calcium, Magnesium, Kalium, Natrium, Chlorid), bezkompromisowa jakosc, ożywczy posmak - to jest Chabeso
Spezi
Nieprzerwanie zyskuje popularność na zachodzie, będąc obecnie najpopularniejszym połączeniem napoju i soku.
Napój na stałe zagościł w świadomości klientów dzięki połączeniu intensywnych smaków:
pomarańczy, cytryny i olejku mandarynkowego. Nie bez przyczyny stał się najpopularniejszym wśród konkurencji.